Dear Friend and Reader,
I just read one of today's biggest headlines: Barack Obama will be airing 30 minute campaign ads, on three major networks, during primetime, on Oct. 29, just days before the Nov. 4 election. It's going to cost millions of dollars: the McCain camp will be offered similar airtime, but in all likelihood they won't be able to afford it. The reason why McCain is a bit low on the green, while Obama's campaign is solid, comes down to two words: grassroots organizing.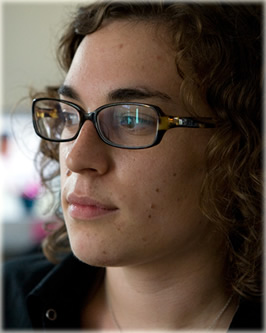 Rachel Asher.
The days of corporate, mainstream, high-profile fundraising are falling behind us, and it's being replaced by something fairly new: a focus on you.
We don't want to eat Kraft foods anymore; we want artisan, local, homegrown — we want food that was made by a person, not a machine. We want to feel we're part of the process. When you give $10 to a movement you can relate to, you feel you're contributing. You're benefiting society, and supporting someone who wants to support you. That's what Planet Waves is all about. When you subscribe to Planet Waves, you're funding a grassroots organization, a small company, a heartfelt project that creates what we do with you in mind.
Today's edition of
Planet Waves Astrology News
is one of our more personal issues. Eric's article stemmed from a conversation he had with one of his Book of Blue models who came out about her childhood sexual abuse. His piece, looking at how the banking crisis is affecting us and studying Pluto in Capricorn, takes a wide but deeply personal view. He looks at the difficulties of parenting, relating it to our own struggles to discover our true calling, our deeper identities, while fighting the riptide of world news and the economic crisis.
We know the world is changing, and we are going to have to change with it: but how? That what he looks at this week.
There is also a special contribution from Project Censored, a media watch group focused on uncovering the biggest stories that get buried by corporate press. It highlights the top 10 unearthed headlines from 2008, and they focus primarily on the Iraq war and the loss of our civil liberties.
Judith Gayle is on the job, offering her grains of wisdom combined with political commentary. This week, she's focused on the presidential debate between Obama and McCain, and a bit on Deepak Chopra.
As always, the weekly horoscope is written by Eric, delivering sign-by-sign reports in that detailed and intimate way that only he can.
An
annual subscription
to Planet Waves Astrology News is only $88, a $7.33 per month contribution towards a small company that's building a community of like-minded individuals, offering an alternative perspective and guidance through the new and changing world. We offer many other options to get involved, but the truth is, we are already thinking of you, what you might be feeling at this point in your life, and offering what ideas we trust will nourish your growth and curiosity in the best ways.
More information and
your subscription options are here
.
For Planet Waves, this is,
Rachel Asher