Saying Yes! to you and what you want
Dear Planet Waves Reader:
I'm the person who created Planet Waves, and I write the horoscopes and many of the articles. I wanted to take a moment and introduce myself. I'd like to tell you a little about what I do and why I do it; and perhaps answer some of your questions about how subscribing to Planet Waves can benefit your happiness, growth and prosperity. That is the goal of astrology, after all -- it's a little like a spiritual lever to help lighten the load and focus the mind on our most authentic goals.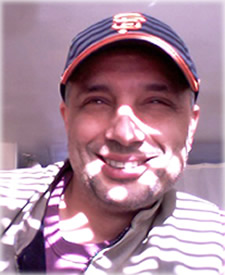 This is me at my desk in Blue Studio, the home base of Planet Waves.
Writing astrology is a pretty unusual job -- especially writing horoscopes. I've done it for so long that it feels normal, but when I consider the relationship to someone who is reading my work, potentially you, that's when I notice the details of the point of contact. I take the work seriously, I do it carefully, and I do my very best to write from direct knowledge and experience rather than from theory. The words you read reflect the life I am leading, and the growth goals I am doing my best to create.
Horoscopes are generally thought of as throwaway bits of writing; or like eating a mint on the way out of the diner. Most people -- including professional astrologers -- feel there is no way they can have relevance. Yet the thing is that sometimes they actually do. Many times I've been moved by something I read in a horoscope column, because it's the right message at the right moment. I brought an open mind and a seeker's spirit, and I found something helpful.
As a writer, that is what I do my best to offer you. Astrology is not 'the truth' -- it's a story that may be personally relevant to you. I speak in a natural voice, and make that story as clear as possible. I can take extremely complex aspect patterns and describe them in a way where you actually get some use out of them.
The charts I use to write my columns speak of the quality of the time we are in, and then I'm able to 'personalize' that quality into a message for each of the 12 signs by shifting my perspective that many times. I consider the planets from many points of view, and create an interpretation. I use astrology, as well as psychology and ideas from many spiritual traditions (I have solid grounding in Pagan, Christian and Hindu paths, as well as a long background in many facets of New Age spirituality).
When writing your columns, I consider the developing situation and I work out the aspects, following a few general guides: I look for the highest potential in any situation. I believe in the greatest good for all concerned, though I encourage you to take care of yourself before taking care of others. I state any problem in a way that it can be solved. That is why you never read a 'bad' or pessimistic interpretation in my columns. I figured out that the planets never describe a problem without also presenting a solution. I believe that win-win situations are possible, and I also believe that we have to take care of ourselves before we can take care of anyone else (a lesson which, like many other people, I have learned the hard way).
In writing the Planet Waves horoscopes and the many articles that come along with them, I consider myself your personal astrologer. I do so on the basis of my deep sense of responsibility in conveying what I write, and my value for your experience on our planet. I know that, after you read my words for a while -- especially in the horoscopes -- my voice becomes an inner voice in your mind, offering a reasonable perspective, and reminding you of your highest potential. Not only that, I believe that you can overcome your obstacles, you can build the life you want and you can share the love that you feel. I know how meaningful those voices have been in my life, and I want to offer mine for this purpose.
My goal as an astrologer is to say YES to you and to what you want. And I write every word with that intention in my soul.
Thanks for checking out my work. It's good to have you here, and it's good to be with you.
Yours & truly,

PS, if you're considering subscribing, you can try Planet Waves on a
free trial basis here
, you can
sign up for a year
, or your can visit our more conventional
product description page
-- which has lots of client feedback. -- efc