You are subscribed to the Sample List.



Attention Readers!

This groundbreaking article on Chiron in Pisces is available instant access to non-subscribers as a single-issue purchase. Or if you would like to subscribe to Planet Waves Astrology News, visit the Subscription Store.

Dear Planet Waves Subscriber:
On April 20th Chiron enters Pisces for the first time since it left in 1969. In a recent edition of Planet Waves, I described our current era as the
anti-Sixties
, but Chiron in Pisces is very much a true-to-Sixties factor. Think of it as being a little like the Beatles. The Sixties were a tumultuous, often frightening time in history, featuring social upheaval, protests, lots of people taking weird drugs, assassinations of beloved leaders, nonstop war in Southeast Asia, and students at protests getting shot. But in the background, there were the Beatles, putting out a constant stream of peace and love. The Sixties would have sucked without the Beatles, and they would have sucked without Chiron in Pisces.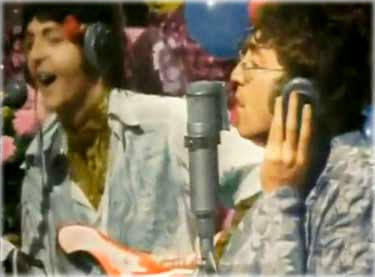 The famous first live performance of "All You Need is Love" at Abbey Road Studio, on June 25, 1967 -- also the first-ever worldwide television performance, called "Our World." Every country participating got to contribute something; this was England's contribution. Chiron was in the last degree of Pisces that night, beginning its process of ingressing Aries.
In case you're not familiar with this odd little planet that goes round our Sun every 51 years, I will cover the basics in a moment -- but first let's review the basics of Sixties astrology. What we usually think of the Sixties was the product of a conjunction: Uranus conjunct Pluto. This meeting of two 'modern planets' -- planets discovered by science, rather than planets of antiquity -- is a
cycle of revolution and innovation
. Uranus bestows a surge forward. Pluto grants depth, intensity and soul. Put them together and you get an era like the one that brought the French Revolution. In the Sixties, Uranus and Pluto were conjunct in Virgo, with explosive results. Yes there were many positive developments, but always that constant sense of change and tension and the fear of where it was all going.
Across the sky in Pisces -- unknown to astronomers or astrologers at the time -- was a small planet called Chiron. Though it would not be discovered until 1977, planets are active long before we're aware of them, and Chiron's influence in this era was a protective spiritual backdrop that provided a kind of refuge, a source of inspiration and focal point within all the madness that could make a song like
"All You Need is Love"
meaningful. If you were born in the Sixties, Chiron in Pisces is likely to be a prominent factor in your astrology, and you've been working with it all your life.
Subscribe to Planet Waves | Purchase as Single Issue



Dear Friend and Pisces:
Pisces has been under particularly bold astrology for the past year, with most major events coming from or being influenced by your sign. Let's see: first there was the triple conjunction of Jupiter, Chiron and Neptune; that involved the two rulers of Pisces. Then there's been the Saturn-Uranus opposition, which directly involved Pisces. Speaking of, Saturn in Virgo has had a profound effect on Pisces relationships.
Now we have Jupiter in Pisces, Chiron about to make its way into your sign next week, and finally, the conjunction of Jupiter and Uranus on June 8, again involving a Pisces planet.
And...what does it all mean? I've created an extended audio presentation for Pisces birthdays that gets into all this astrology in the kind of imaginative detail that you want. In one full segment of about 20 minutes, I look closely at Chiron in Pisces. And I've added a tarot card spread for Pisces, using the amazing Voyager deck by James Wanless.
This audio is available now
. After the amazing success of the Aries birthday audio in March [
please see feedback here
], I thought I would cover Pisces before getting into Taurus (which will be next week). This audio reviews your transits going back to last year, and covers well into 2011. In all, it's the length of one of my professional consultations, about 70+ minutes of astrology and tarot. I've been doing tarot for seven years longer than I've been doing astrology, and these birthday readings have been ringing the bell.
It's presented in an easy-to-use audio format, divided into four sections. We've had very good success with this device working for all of our clients.
So if you're a Pisces, treat yourself to a late birthday present. This audio is also great for Pisces rising and should be informative and helpful to anyone with a Pisces Moon; or a Pisces significant other who you're trying to figure out. It's priced to be affordable -- the whole thing for just $14.99.
Here's your sign-up link
-- and happy birthday, Pisces.
Your astrologer,



Weekly Horoscope for Friday, April 16, 2010, #812 - BY ERIC FRANCIS

Face your challenges over the next few weeks as inner mental puzzles rather than opportunities for contention. You could take this astrology either way, depending on your theory of growth or personality. What is coming into conflict are two different aspects or levels of your mind, one of which would be better described as emotional and the other more appropriately called intellectual. Yet there is another dimension that is opening up for you that goes beyond both. You have had tastes of this over the past year, but you've been so busy trying to stay oriented that you may have missed some of the subtler aspects of the hidden world trying to get your attention. Beyond mind, personality and emotion is imagination. Humans are mainly limited by what we can envision, and some of those limits are about to disappear.



Aries Birthday Audio by Eric Francis is available. Check this link for more information.