The Onion, popular website, finally closing its doors
It's true.
The Onion
is closing down. The venerated website and newspaper founded in 1988 as an advertising sheet, is calling it quits.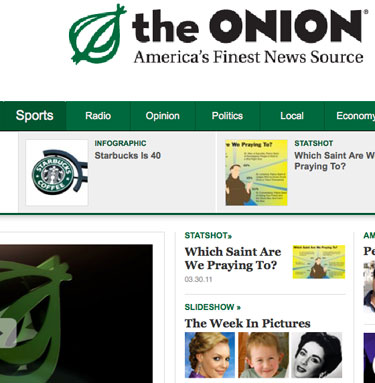 Typical cover of The Onion's internet edition. Shown lower left is the video frame. In recent years, the comedy newspaper has been over-dependent on video to compensate for less-than-sataisfactory writing, according to some media theorists. Image © 2011 by Planet Waves.
"That's a fact," said editor Joe Randazzo, who will be taking a job as humor editor of the
Christian Science Monitor
, his grandfather's favorite newspaper. "We felt that we were past our glory days. You know, we didn't want to be recording the same album over and over again, like the Beach Boys."
Randazzo said he thought of himself more as The Beatles, "Who knew when to get out of the game. They did great things, built a legacy, and let it speak for itself."
He said that if the Beatles were together today, "Nobody would even care. It's because they broke up that we love them. So, see ya."
The paper published its last print edition this week, and will remain on the Internet for one additional week, the company said in a prepared statement. Copies of the last hard-copy edition are likely to become collector's items and some are already going on e-Bay for $20. One collector said that so few people saved previous editions that they're likely to become valuable as well. "It's a novelty thing" said Jessica Hamilton, brand manager for Marvel Comics.
The paper has a checkered past. Even its official website admits that
The Onion
was created merely as a way to make money and except for the coupons for 10-cent wings and $3 pitchers, it pretty much sucked from the beginning.
Dan Savage, one of the earliest contributors, reminisces. "Yep it pretty much was a waste of paper except for me," he said this week. Savage started his "Savage Love" column at the newspaper. "The joke was that a gay guy would be giving advice to straight people," he said. "I always thought it was funny that straight people writing sex advice columns had so much to say to gay people. I've been to grad school. I understand irony."
Past luminaries from the staff admit that coming up with content was a stretch.
"Once we got beyond a few dumb jokes to fill up the spaces between Pizza Hut and Blimpie ads, we really had nothing else to say," said Scott Dikkers, the longest serving editor-in-chief in the newspaper's history, which is not saying much because only four people have ever held that position, he basically hogged it, and the managing editor does all the work anyway.
"But at least I learned how to type. And I actually did take that photo of
Monica Lewinsky
arriving at Dulles, which made me want to become a
film director
. Dikkers went on to direct the 2003 blockbuster
Bad Meat
, following up after a seven-year hiatus with
Ape Trouble
.
David Javerbaum, a former contributor of
The Onion
who went onto become executive producer of The Daily Show, said it's good riddance that the publication is finally closing its doors. "There are enough college newspapers," he said.
The one feature in
The Onion
that was consistently prescient was its horoscope. According to one past editor, it was written by interns as a proving ground. Founded in January 1988,
The Onion
was an Aquarius. In the horoscope for that sign, intern Nora Bellingham wrote in the last edition, "Old promises come due this week when you're reminded of your pledge to get a real job just as soon as the Portuguese prime minister retires."
First 'photos of Mercury' in 30 years taken with Mercury retrograde
The first photos of Mercury distributed widely on the Internet were taken with Mercury retrograde, giving rise to speculation that they are really photos of somewhere else.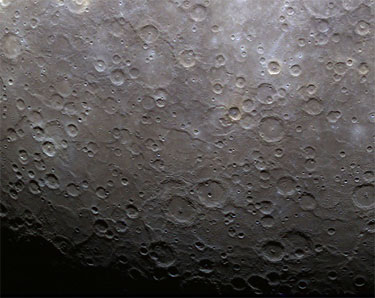 Dubious images are believed by the public to be Mercury. Very little about the picture actually makes sense. Photo: NASA.
"They look like just about anyplace," said astronomer Mike Brown of Caltech, who discovered Mercury. "You cannot conclusively say that's Mercury. It's the probable surface of something, a planet, an asteroid, maybe even Arizona. But to say it's Mercury is speculative."
Neil Armstrong was emailed the image Thursday. "This looks extremely familiar," he said from his home in California. "I could swear I've seen this somewhere before."
By Thursday night, speculation that the Mercury photos were a hoax was running wild on the Internet. "Look closely and you'll see the shadows go in all directions," said Sophia Coppola, reached at home in Palermo. "This is worse than the crap Kubrick did for Nixon with the Moon landing thing. I can't believe anyone is falling for this. Look, there's a Snicker's wrapper on the lower left."
But NASA officials were adamant that the photo originated with the $56 billion MESSENGER program they say arrived at Mercury this week, the first spacecraft to reach the innermost planet since Mariner 10 in the mid-1970s.
"That would be nice, but the whole thing was fried by solar flares," said Martha Alexandra, a secretary at the space agency, who spoke on the condition of anonymity. "I mean, toasted. The decals on the outside of the ship are actually scorched. You can't tell if it's USA or USSR."
"The Moon was in Pisces when the photos of Mercury appeared," said Rob Hand, who was leading a tour of the Nile Valley with his cousin Barbara Hand Clow. "Clearly, this is a work of cinema."
Check this audio announcement for information about Eric's
new e-book, Light Bridge: The 25-Year Span.



---

Light Bridge: The 25-Year Span by Eric Francis
is the story of irrevocable change told through the lens of astrology, history and self-awareness. This is a carefully selected set of articles and essays by Eric written since 1987, which take you through the transition of the millennium into 2012. The essays are a continuing meditation on the experience of confronting global changes from long before anyone was certain they would really happen. It begins in a spiritual community in 1987 and comes to the present day, including a look at the astrology of the 2012-2015 era. Included are Eric's best essays on sweeping world changes, relationships and maintaining some sense of one's inner life in the midst of it all. The book, available as a printable PDF, is 174 pages and is illustrated by Carol McCloud. It's just $14.95. It's the perfect companion to Light Bridge, the 2011 annual edition of Planet Waves. Purchase your copy here.
---