Libra Moon, Aries Sun: Lighting the Way
In today's subscriber issue, Eric describes the stellium of planets with self-related themes in Aries as being opposite a pair of mirrors: the long-term but less reflective Saturn, and for this weekend, the quick-moving and illuminating Libra Full Moon.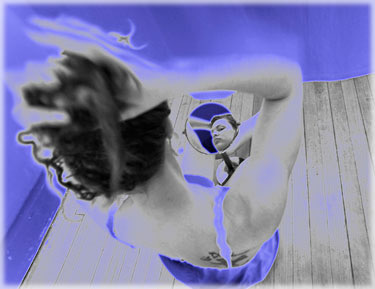 Photo by Eric Francis -- Book of Blue.
Now, if you're anything like me (and I realize you may not be), these fleeting but potent aspects may sometimes leave you scrambling. I'm regularly afflicted with this self-terrorizing thought that I haven't 'done enough' yet in terms of work on myself to take full advantage of whatever insights are waiting to surface. It's not as bad as it was a few years ago, when full-on paralysis would take hold; not that bad by a long shot. But the world is changing quickly and life keeps hurtling toward the next new urgent thing. It can be hard to find that balance between introspection and action, between meditating to the point of withdrawal from meaningful engagement versus running around putting out fires but not processing the experiences.
Planet Waves strives to offer a reminder to slow down enough to feel the astrology, the tools to get the most out of your self-investigation, and encouragement to take concrete action in the world around you based on what you learn and who you are becoming.
We're living in a pretty exceptional moment on this planet, and two of our most recent and ambitious projects at Planet Waves address this matrix directly, with an eye to your personal experience in the midst of it as you fulfill the promise of who you came here to be.
The most recent of these projects is Eric's book
Light Bridge: The 25-Year Span
. This collection of essays begins in 1987 and spans until very recently, bringing these current years of incredible change into focus. As we move through the astrology into 2012 and beyond, a clear view of this historical context is essential to the process of envisioning and manifesting where we want to go.
You may purchase the book here.

Another incredible tool is the 2011 annual edition from Planet Waves, titled
Light Bridge
. It may seem a bit odd to consider a 'year ahead' reading this far into a year, but Eric does not write typical 'one year at a time' annual reports. For one thing, the astrology Eric describes in Light Bridge reaches further than one year, and he discusses this long view. For another, Eric just recently finished the companion audio reports for each sign to go with the written reports. These focus more on the play of minor planets among the major players, adding nuance you won't find on other astrology sites.
Personally, I like to print out my Sun and rising annual reports, take a highlighter to them, and then consult them throughout the year to check in on the 'big picture'. It gives a little perspective to the weekly horoscope snapshots. These annual reports really don't grow obsolete, and they make great gifts.
You may purchase one or several at this link
.
Sunday's Full Moon will be shining brightly on self-concepts and self-awareness. Do you have the resources you need to help you discern the difference and use the insights that come to light?
Yours & truly,

Amanda Painter
Check this audio announcement for information about Eric's new e-book, Light Bridge: The 25-Year Span.


---

Light Bridge: The 25-Year Span by Eric Francis
is the story of irrevocable change told through the lens of astrology, history and self-awareness. This is a carefully selected set of articles and essays by Eric written since 1987, which take you through the transition of the millennium into 2012. The essays are a continuing meditation on the experience of confronting global changes from long before anyone was certain they would really happen. It begins in a spiritual community in 1987 and comes to the present day, including a look at the astrology of the 2012-2015 era. Included are Eric's best essays on sweeping world changes, relationships and maintaining some sense of one's inner life in the midst of it all. The book, available as a printable PDF, is 174 pages and is illustrated by Carol McCloud. It's just $14.95. It's the perfect companion to Light Bridge, the 2011 annual edition of Planet Waves. Purchase your copy here.
---