Ticks that Click: Neptune enters Pisces
Dear Friend of Planet Waves,
Just before last weekend I was chatting online with Fe Bongolan, one of our regular contributors on the Planet Waves blog, about the then-impending ingress of Neptune into Pisces on April 4. Eric had mentioned that one of the potential signposts of this move, in addition to increased urges toward creativity, would likely be a bit more 'psychic' activity for many. Sure enough, Fe mentioned to me she had just experienced a few instances of clairvoyance or clairaudience as Neptune closed in on Pisces for the first time in more than 150 years.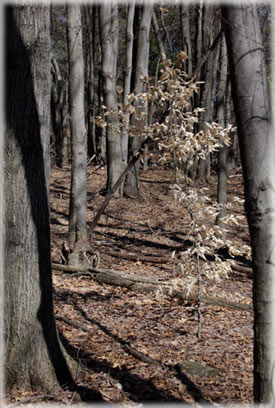 View of the Massachusetts forest in early springtime. Photo by Eric Francis.
I'll admit, I was a bit envious; I don't generally consider myself to be that high on the psychic scale. Sometimes I can hear my intuition whispering to me, but I know I often think it to death. So when on Sunday, the day before Neptune entered Pisces, I had what I think was one of those 'moments', it felt very reassuring -- like maybe I'm not as disconnected as I sometimes fear.
A friend and I were traipsing through some suburban woods in central Massachusetts, cameras in hand, soaking up the sunshine as we investigated nature and made art. A thought of deer ticks -- the kind that can carry Lyme disease -- flashed through my head. But I am not someone who tends to walk in constant fear of ticks when I am in the woods, so I let the thought go. When my friend and I later found two deer ticks crawling on him, I remembered the thought that had flowed into consciousness while we played at photography, and I recognized it as a small but meaningful example of opening a bit to that Neptunian level.
I also realized I had not spoken up about the warning I had received until after he found the first tick himself. There is a skill in discerning that fine line between intuition and delusion or paranoia; it takes some practice, and I am still building my confidence.
This difference is also known as 'truth versus lies', and for many that difference is hard to discern. Eric has noted in today's subscriber issue that Neptune's tenure in Aquarius has been a bit like a decade-plus of "water on the brain." Unfortunately the consequences of that condition include a culture in which the biggest lies seem to get the strongest traction. Neptune in Pisces is totally new for us, but luckily Chiron is already there, shining a light to burn away the mist.
In today's issue, Eric focuses this light a bit more on the lapses in logic we're grappling with in the world right now and holds out this excellent reason to look around and shine the light through your own personal mist: the Uranus-Pluto square is going to urge us to action. But first we need to see the lies we stand against and envision the truth we want to work for.
To read Eric's full article and horoscopes, you may
click here for this single issue
or sign up for a
six-month subscription here
.
Yours & truly,

Amanda Painter
PS: Just in case you didn't see this, or want a refresher, here is Eric's take on Chiron and Neptune in Pisces, called
How To Cross an Ocean
.
Check this audio announcement for information about Eric's
new e-book, Light Bridge: The 25-Year Span.



---

Light Bridge: The 25-Year Span by Eric Francis is the story of irrevocable change told through the lens of astrology, history and self-awareness. This is a carefully selected set of articles and essays by Eric written since 1987, which take you through the transition of the millennium into 2012. The essays are a continuing meditation on the experience of confronting global changes from long before anyone was certain they would really happen. It begins in a spiritual community in 1987 and comes to the present day, including a look at the astrology of the 2012-2015 era. Included are Eric's best essays on sweeping world changes, relationships and maintaining some sense of one's inner life in the midst of it all. The book, available as a printable PDF, is 174 pages and is illustrated by Carol McCloud. It's just $14.95. It's the perfect companion to Light Bridge, the 2011 annual edition of Planet Waves. Purchase your copy here.
---