Note to readers:
As your computer, cell phone or car may have told you already, Mercury stations retrograde today. In case you find yourself needing deeper guidance though the apparent chaos, Eric has created a special 12-sign
Mercury Retrograde Audio Report.
You can find details in his letter below; much of this particular retrograde in Virgo carries the theme of healing goals and we live in a very wounded culture, so if your intuition says it's time to move forward on that path, do take advantage of this offering. This sample issue includes the fire sign horoscopes (the Leo Birthday Audio is finally available, see below; as is the "retro" Capricorn Birthday Audio,
available here
). Subscribing to Astrology News will grant you access to the rest of this week's horoscopes plus the entire fascinating interview with Eric titled Metaprogramming With Astrology. It's not available in full anywhere else at this time, so if you're curious where this particular internet astrologer stands on the pros and cons of the evolving role of the internet in our culture -- including how the internet is pushing boundaries and its effects on our sense of self -- now is the time to sign up with a
one-month free trial
or a
discounted six-month subscription.
Mercury Stationing Retrograde in Virgo
Dear Fellow Traveler:
Mercury stations retrograde today. Can you feel it? If you have the patience, it's one of those deep-thinking moments. If you don't, you may be encountering significant frustration -- so practice patience, especially in any form of communication. Prudent astrological counsel is to move gently, slowly, carefully; do so day by day and hour by hour, if you must. The retrograde lasts through Sept. 12, with the peak coming on Sept. 3 when Mercury makes its interior conjunction to the Sun. That moment is when Mercury passes directly between the Earth and the Sun and the retrograde begins to wind down.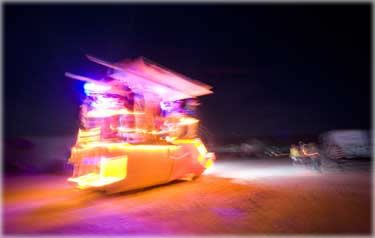 Art car at Burning Man 2009, photo by Eric Francis.
This transit has many unusual features. Most of them involve Mercury playing off of a group of minor plants in Sagittarius, as well as a point called the Great Attractor. In other words, although Mercury is retrograde in Virgo, it's picking up strong influence from Sagittarius.
Many of these contacts involve family history. For example, the retrograde is happening with Mercury square Quaoar, a planet that's about how we are born into our family of origin and just start picking up the patterns that everyone else is acting out unconsciously, or nonchalantly. As we know, some of those patterns are difficult to see, much less do anything about. The current astrology should be doing a nice job of making us aware of what some of that material is about. Quaoar about describes our personal creation myth -- something we may not think about too often. That is the story, deep in your mind, about how you came to Earth, where you came from, and what your existence means.
Registered Subscribers Continue Reading | Subscribe to Planet Waves

Metaprogramming With Astrology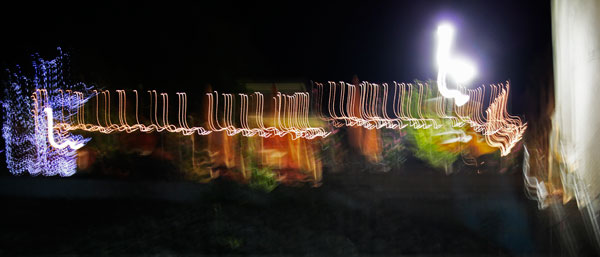 Planetary Cycles. Photo of Community Gourmet, next to Blue Studio, by Eric Francis.
Interview with Eric Francis by Savas Abadsidis.
Eric Francis is a writer and astrologer who has contributed to the Internet since the mid-1990s -- for his profession, since the beginning. He came to astrology from environmental investigative reporting, so he has a background in technology, exposing fraud and how invisible things can affect the whole world. He answered these questions in late March 2010 while in Portland, Maine.

How does the virtual world relate to the world that you function in as an astrologer? Are there analogies?

First, a bit about that function: I'm one of the people who writes the horoscopes that appear in the backs of magazines and on the Internet. I also work with individual clients, conduct research and train other astrologers in counseling techniques. I do a lot of news analysis as well, using the positions of the planets at the time of major public developments.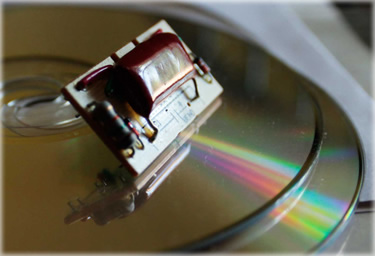 Capacitor cut from my telephone network interface by friendly Verizon guy, which was slowing down my DSL connection. Photo by Eric.
I have a very old kind of job but I think that the emergence of the virtual world has some deep connections to what I do, and to what many astrologers do. Often astrology seems like a model of the Internet -- but an ancient model, created long before it was a twinkle in the eye of a gamer, hacker or academic. Astrology functions as a shared field of connection; and as a system of symbolic representation; and as a language.
I often think of astrology as a metaprogramming tool. It's a way to describe extremely complicated concepts in short notation, and then to express those concepts in a useful way. But you have to know what you're doing for it to work effectively; that is, in a way that fosters growth, awareness and potential.
By metaprogramming tool, I mean it's a way to look at and also to assemble the core concepts of how we think of ourselves, and explore their relationships. I'll give you an easy example. Venus and Mars are active in the charts of all men and all women. In astrology you're not strictly "a man" or ""a woman" and stuck to those roles. The moment you open a person's chart, you see how their male side functions and how their female side functions, and how the two relate -- and being aware of this shift in model can change your life in a matter of moments.
It's also possible to use astrology in a way that reduces people to their symbols, and limits their potential. That's reductionist. But that's more about the use than astrology itself. With astrology, as with many things -- such as the Internet -- you tend to get results based on the creativity and intention you put in. The use of symbols can move a lot of creative energy, if you focus your awareness and intention.
Registered Subscribers Continue Reading | Subscribe to Planet Waves

Mercury Retrograde in Virgo: Aug. 20 - Sept. 12
A Special 12-Sign Audio Edition of Planet Waves by Eric Francis
Dear Fellow Traveler:
Mercury is about to be retrograde, beginning Friday. This is one of those events we all agree has an effect. Some people love it; it gets their creative energy jumping. Other people lose their keys six times, get their cell phone cut off, have their Yahoo account hacked and bounce the mortgage payment. Occasionally it can lead to significant problems -- and just as often, truly helpful solutions and shifts of awareness. I've often noticed Mercury retrograde as the moment where the truth reveals itself, or (in a Chiron-like way) we discover the flaw in a system just in time.
In a special audio edition of Planet Waves, I'm taking a closer look at the Mercury retrograde experience and exploring both why it's so potent and how we can use it to improve our lives. For the next few weeks, Mercury will be retrograde in Virgo, one of the signs with which it's the most closely associated.
My take on this particular retrograde is that it's reminding us about unfinished healing projects. What are those projects? What has changed since we forgot about them? Where would be a good place to resume where we left off, and what can we safely move on from? I'll be looking for ways to help you consolidate your efforts, as well as to focus on specific issues and ideas that will assist like leverage points.
Another angle of this retrograde involves our typical state of mental overload. We wouldn't get into that, you know, scattered, stretched-thin state of mind, if we didn't have certain predispositions, and often these are oriented in the past -- as mental patterns. Mercury trekking backwards through Virgo will help us clue into the nature of those patterns and give us some hints about what to do with them. Where any of us has Virgo placed in our charts is an aspect of life where we need to be less self-critical, more self-supportive and relax our perfectionism. I would count those as healing goals, and I'll be reading the charts from that angle as well.
For subscribers, this is a 12-sign report --
all the signs for one price
. This will enable you to listen to your Sun, Moon and rising signs, as well as those of the people you care about. I'll present it in an audio package with introductory materials that explain Mercury retrograde in general (offering insights into the more common themes of avoiding bad purchases and our continuing relationship to technology) and offer deeper ideas about this particular one. Then I'll take the signs one-by-one in 15-minute presentations.
The report is scheduled to be ready Friday afternoon, the day Mercury stations. I'm offering it now for the
pre-order price of $24.95
. This includes
all the introductory materials and all 12 signs
. The price will go up to $29.95 after the report is released (or the signs will be sold individually). The report will include an overview of the Libra equinox chart -- which includes a
Full Moon on the Aries Point the day of the equinox
.
Pre-orders will be sent access information and you'll receive an email as soon as the report is posted. This promises to be a fun, useful project -- and one that has a value that will outlast the current astrology as a dependable resource.
Once again, here is your
pre-ordering page
. Thank you for your business and happy retrograding!

PS: Here is
last year's Mercury retrograde report
-- a written edition that was a bestseller and got great reviews. There will be much more information for the 12 signs in this audio edition.


Weekly Horoscope for Friday, August 20, 2010, #828 - BY ERIC FRANCIS

Dear Fellow Traveler:
It is better to have a slow start than many false starts. Therefore, proceed with care and awareness through the 12th when Mercury stations direct, and even then, don't trust everything you see and hear. As for trusting your feelings, I would say yes -- as long as those feelings consist of something besides hope or fear. Complicated is different than complex, and what you need now is a multi-faceted approach to exploring the potentials in your life. Collect the facts, check them over a few times, and see what they add up to. This will provide some grounding for your thought process. Yet two powerful conjunctions that occur around the time of the equinox -- Jupiter conjunct Uranus in Pisces, and Chiron conjunct Neptune in Aquarius -- both say essentially the same thing: trust your intuition, and trust your ideas.
Yours & truly,

I suggest you avoid competitive situations, and do your best to make sure that you purge a spirit of competition from your intimate encounters. I would not need to say this if the playing of games, and putting people through the paces, were not such a common experience where erotic and emotional encounters are concerned. But playing at love as if it were a game of Top Chef will be the single fastest way to eliminate any sense of intimacy in your relationships. It's also likely to be a cover story for a sense of disconnect that you may be feeling with someone you want to be close to. And this invokes the deeper and perhaps more challenging part of human contact, which is developing your connection to yourself as you explore the journey of being close to others.



Aries Birthday Audio by Eric Francis is available.

Check this link

for more information.



You have something to say, so I suggest you say it. You may be terrified to, but this is the time to take some new, if tentative, steps in the art of self-expression. I am aware the depth of commitment involved in making any statement. I am aware that saying anything incurs the risk of being wrong. These are two things that you would do very well to face boldly. Trust your balanced perspective. Have faith that you see more to the picture than most people do, and that you know what stands on the other side. That is the perspective from which to speak -- to reveal the hidden world behind the façade of existence. In doing this you would, of course, be revealing something beyond your own façade. You would be allowing a new depth of vulnerability. These will be steps toward freedom.



The

Leo Audio Birthday Report

is now ready. This is more than an hour of astrology for Leo and Leo rising, covering the cardinal T-square from a personal perspective. I've also included a 20-minute tarot reading using the Voyager Deck. For instant access,

order here

for Leo and Leo Rising. Only $14.95, this also makes a meaningful and economical birthday gift.

We live in a self-obsessed society that lacks self-knowledge. You are probably one of the illuminated. You have a vision, you are in contact with your creativity and you understand that there is such a thing as liberation. For you, liberation and knowledge are one, and as this autumn progresses you're going to figure out that the only true knowledge is rooted in your emotional body. This is not true of everyone, though we would all benefit from this level of awareness. For you, it's always true and yet this time in your life marks a special time in your growth, where you tap into the deepest inner sense of your senses and thoughts and confirm what is true by a purely emotional response. Some call this a gut response, and I would agree, except to say that it goes deeper: right down to your cells.