About That Cyber Smudge Stick
Dear Friend and Reader:
Yesterday we sent out a promo inviting you to subscribe to Planet Waves with a
New Age theme.
Then, I sent out a request for your feedback and got a pretty stunning response -- thank you.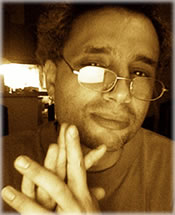 Eric Francis.
We have collected your responses and
put them on a web page
, in case you would like to see what others thought. It is interesting to encounter the diversity of responses to the same letter.
We're always looking for the right language to convey our message to our readers -- that is, to you -- in a way that invites you in as one who participates actively in an energy exchange, so fundamental to our mutual growth. Welcome to another way of existence: the one that we know the whole culture must move toward, if we want to create a sane and sustainable world.
We know
you
get what we're doing. I know from your letters how much attention you pay to everything we send out. You see the obvious value and authentic service of the approach we're taking. You want the sense of perspective and connection that we offer, even in the midst of the most troubling world events. We're mindful of offering a service in the midst of a recession -- we take it as a sacred duty to make sure that what we offer you is well worth the small fee we ask -- and your purchase price is fully guaranteed. We are much more than a "horoscope service"; we are inventing a new genre of spiritually focused news journalism.
Check out our latest issue
and see.
We recognize the challenges of introducing the public to ideas that don't fit a previously known category. I also know we are doing something long overdue. My writing, and that of my colleagues, takes an angle on the "outer world" that embraces the inner world, that is, your personal experience.
This is what some would call a feminine approach. I am not offering a critique of "the media," but rather getting right in there and reinventing the whole concept. This approach honors your need for growth and awareness in the midst of global events that might otherwise give you occasion for little but despair.
As of today, many have reached the point where they can no longer look away from the changes the world is going through, but cannot take the unprocessed negativity that often passes for "the news." We need to be connected in a way that would register as strength in a muscle test. We need to replace despair with awareness, paralysis with a willing sense of participation, and anger at oil executives with our own love of our planet: love which is put into motion. Moving forward, we are going to need tools. Collectively at Planet Waves we have centuries of experience developing those tools, and we are here to offer them to you.
Perhaps this is challenging; I recognize that for many, it's not time to look at the connection points, to investigate your personal role, and to connect your own growth and awareness with the world around you. And maybe it is.
If you want to receive our full materials regularly, here is an offer that comes with a wholesome discount. If cash flow has stood in the way, maybe this will help. This link offers you
six months for the price of three months
, and here is a
recurring monthly offer
that you can cancel at any time.
Thank you for your attention and kindness -- it's great to be with you.
Yours & truly,