Editor's Note: The new edition of Planet Waves is about to go out to subscribers and be posted to our subscriber homepage. What you have below is a sample of the articles contained in that issue -- a few paragraphs of each, and the three air sign horoscopes. Listen to an audio introduction to this edition here. --efc.
Reaching the Edge of an Idea
Dear Friend and Reader:
Days away from the Jupiter-Uranus conjunction in Aries, all you have to do is watch television for five minutes before you recognize that the world is in the midst of a worst-case scenario. The truth is, regarding the oil volcano in the Gulf, it's now been six weeks and it remains out of control despite one failed effort after the next to contain the gusher. Most people are significantly underestimating the global scale of this crisis. Meanwhile there are significant issues on many other fronts, from banking to war, each of them threatening a major regional or global situation. It's making me feel nostalgic for the simpler days when all we had to worry about was nuclear war.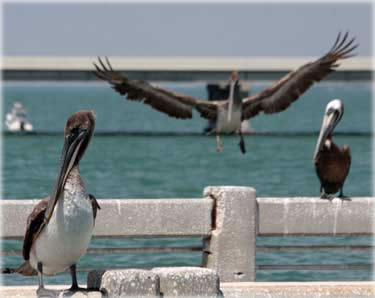 Pelicans on Tampa Bay near the Gulf of Mexico last weekend -- safe for now. Photo by Eric Francis.
The irony, or perhaps the deeper truth, is that the aspects we're experiencing are some of the most mind-expanding and life-affirming astrology we've ever lived through, and yet the world seems to be in the midst of a constant disaster. In this, we face ecological and economic consequences; and we face an immediate human toll. Anyone who is paying attention feels the pain emotionally. And it seems to be the people the most emotionally sensitive to the world's delicate balance, who feel the plight and pain of animals and the land, who understand how bad this is. We understand this is a permanent change in the shape of the world.
There may be a silver lining to this catastrophe, which is that these events seem destined to wake up enough people to the simple truth that as a society, we have run out of ideas about how to live, and we are now experiencing the consequences of that. What we are witnessing seems destined to stir people to make a difference -- not necessarily a lot, but just enough. I'm not speaking from my unshakable faith in humanity to take care of itself, but rather the way the aspects develop as the next few weeks unwind, and as the next two years unfold.
Since Uranus entered Aries, it does seem the world has gone just a little extra mad -- and it was doing quite well with that project before this week. You know things are weird when there's a mass murder in England, where most cops don't even have guns. With Jupiter arriving, many people will not be able to handle this energy comfortably; the more dense one's level of awareness, the more challenging it is. If you can open up, it's easier. This of course is counterintuitive. The natural response is to crawl into a hole and try to forget about the world. Yet that's precisely how we got into this mess.
Yet what cannot be tuned out so easily is the personal influence that these aspects are having, and they are acting on each and every one of our charts. We all know what time it is. Many are feeling a sense of urgency within our personal development, profound restlessness, that sense of wanting to wake up and looking around for others to show signs of stirring to consciousness. I have a suggestion: don't waste your time waiting for anyone else. This is about you. As soon as you accept that it's about you, then it can become about us.
Registered Subscribers Continue Reading | Subscribe to Planet Waves
Gemini Birthday Audio: The Sky is Hot and So Are You
Dear Friend and Gemini, Gem Moon or Ascendant:
I've just finished the Gemini birthday audio for you, and man the sky is hot. We know that, but your chart and your life are positioned to make the most of the amazing astrology that we are experiencing now. This is a moment when it seems like everything is happening at once, though the main thing that's happening is that you are cultivating a new level of autonomy. That is to say, your charts suggest strongly that the highest priority in your life is to be an independent person, free of your entanglements with others so that you can release your true potential.
This manifests three ways. First, I see you embarking on an overhaul of your financial plans and how you both structure and think about money. For too long you have been under the influence and indeed the power of others, and Pluto in Capricorn is helping you work out how this has been, and offering you many suggestions for how to open up to your own strength. While this plan has been in the works for a while, you're likely to feel a lot of change all at once -- and this will come with other changes in a relationship that is in a sense bound together by sex and money.
What you are really doing is dismantling the old values given to you by your parents, principally your mother, and tearing these ideas apart and opening up to a new set of ideals. You are determined to run on your own steam, and it's about time you did.
Next, you are finally finding some focus in your career. This is not easy for a Gemini, because you have Pisces in your career house: that's difficult to focus into a concrete plan of action, though Chiron in Pisces is pushing you to do just that. You'll either be feeling this as a sense of crisis or a sense of empowerment -- maybe, at times, as a mix of both. I describe in some detail how to work with Chiron energy to make the most of this rare event.
Finally, the time has arrived: your focus on your professional goals is translating into a passion about expressing yourself bravely, in original ways and without fear. This is about the Jupiter-Uranus conjunction in your 11th solar house, Aries. This is about liberating your self expression, having a greater influence on your friends than they have on you, and being able to visualize your desires, hopes and dreams for who you want to be. Visualize, yes -- and manifest, because you finally have the discipline and focus.
You will find the details are all in this extended audio -- 60 minutes of astrology and 20 minutes of tarot using the Voyager deck -- all for just $14.99. Here is the
link for instant access
.
Yours & truly,

PS, here is a
free audio sample
of this presentation, five minutes.
Freedom's Potential: A Remembrance
|
Political Waves
Saturn and Uranus oppose each another in a clash of Titans, reminding me that I wore flowers in my hair in Golden Gate Park long before the Summer of Love, feeling the energy dance on my skin like fireflies sparking off light. That was before the drugs went bad and the ghetto-fires raged, before the snipers loaded their rifles and St. Ronnie the Reagan told us that hippies looked and smelled like Cheetah, before the establishment decided that kids were the enemy, before the churches began to howl about taking back American values. Even when it all went viral, the air was electric with purpose and determination. And while this isn't the Summer of Love,
Part Deux
, perhaps it's the cynic's version.
Those were days when we had supreme confidence both in ourselves and in our ability to impact the world. We believed in the vote, in the Constitution and the American system of checks and balances. We had respect for science that took us to the Moon, and medicine that gave us the first heart transplant. Television was benign, and news still showed actual pictures of war deaths and protests against them. We gave a slight nod to militarism at its leanest and meanest, but considered Vietnam an egregious example of exploitive empire building. We cracked open politics to get a good look at its dark underbelly. We marched through the haze of tear gas and threats of baton-wielding cops to make our voices heard. Our American Dream was more about freedom's potential than its actuality, even as we took advantage of the liberty that citizenship provided us. We had no idea how good we had it.
Registered Subscribers Continue Reading | Subscribe to Planet Waves


Weekly Horoscope for Friday, June 4, 2010, #818 - BY ERIC FRANCIS

So much is available now, you may have no clue how to embrace the possibilities. I suggest you begin with a goal; a single goal. Of the many profound transits now affecting your solar chart, the one thing that is the most distinct is your ability to focus on an objective. This is something new, something that has never quite happened to you: a new gift. I recognize that there are many crucial items on your agenda, all of them seeming to demand energy. Yet I am speaking of something on a higher order of reality, which is your ability to work your mind in a new way, take ownership of that skill, and then seeing where this leaves you. Focus on your highest priority; your single most meaningful and heartfelt desire. I think you'll learn something that will provide an approach to everything else on your agenda.



Gemini Birthday Audio by Eric Francis is available.

Check this link

for more information.

 
You seem, at least, not to have your whole life be run by your petty anxieties. And those worries would usually have you worried that you might never break free of them -- though now this seems ridiculous. You have no choice but to rise to the level of the challenges that are calling you; to meet the world with the energy it's offering you, and to call yourself fully present in your relationships. As you evolve into this as a way of life, you may wonder once or twice where those cranky old fears went, though I propose you will forget them entirely soon enough. Your more authentic state of being is to project yourself fully and fearlessly into your environment and commit fully to everything that you encounter. How can you do that? By being fully devoted to yourself, and letting all good things grow from there.


In the window of Blue Studio, I inscribed the adage, We don't see things as they are. We see them as we are. Our minds are the filter through which we perceive reality. Everything we see is totally, completely and entirely biased by the filter known as our mind. Right now your mind is undergoing the most thorough modernization that you've ever experienced. And as a result, so, too, is the world: and the truth is, it's not just your perception that's changing. Your environment is changing too, yet you now have the mental apparatus to perceive this evolution for what it is. There appears to be a deeply passionate influence coming in from the outside, someone you may care about deeply and in a highly specific way. Yes, you are receiving their expression of who they are -- but it takes one to know one.