Borasisi and the New Moon in Pisces
Dear Friend of Planet Waves,
In today's issue of Planet Waves Weekly, Eric delineates a minor planet about which very little has been written: Borasisi. In fact, this is the first full-length article Eric has ever written about this relatively small hunk of ice and rock, which orbits our Sun just beyond Pluto. Today it is conjunct the Pisces New Moon, which is the last New Moon of the astrological year in a sign that has been seeing a bit of planetary action recently.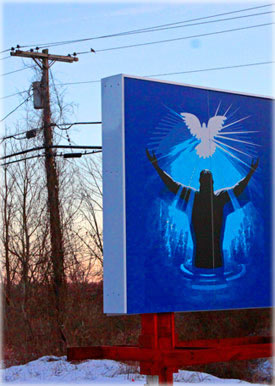 Kurt Vonnegut addresses the deceptions of science and religion in his novel Cat's Cradle, which is connected to today's New Moon. Photo by Eric Francis.
You may have caught Eric's
audio blog post on Wednesday
, in which he began the discussion of Borasisi by exploring the nexus of truth, lies, religion and science in our culture. These are themes suggested by Kurt Vonnegut's novel
Cat's Cradle
, the origin of the name Borasisi. They dominate our cultural landscape, but often in ways we don't notice -- and it's time we start noticing.
I can't really boil down Eric's whole article into a brief letter -- the subject is far too rich. But I will say that in a week in which the theme of using creativity to shift perception and belief seems to keep popping up for me, there is a certain resonance to having a planet named after the Sun in a fictional novel make a conjunction to the real New Moon in the sign of creativity.
We have a choice on a daily basis to feel our sense of integrity, identify our delusions and discern truth from lies both in ourselves and in the world around us. It's not always easy, and can be quite painful. But we have a tool at our disposal: creativity. When we engage the process of story-making with clear intent -- that is, in exploration of truth, rather than to deceive -- we can use the fiction-making to try a new perspective. We can begin to see what was hidden. If we can clearly see who we are now and simultaneously hold a vision of our highest potential, we may begin to manifest who we came here to be.
The conjunction between today's New Moon and Borasisi gives us an opportunity to turn our attention this way a bit more, toward our own personal matrix of beliefs, stories, truth and the lies that hold us back. You're invited to add your thoughts
under today's blog post.
Happy New Moon to all and happy birthday to all fishies from Planet Waves.
Yours & truly,

Amanda Painter