This is the sample edition of the June Monthly Horoscope, containing the air signs only. The full edition is available to subscribers to Planet Waves Astrology News and Next World Stories.
Dear Friend and Reader:
The great god Mercury, messenger, trickster and the planet of Hermes (one of the founders of astrology) stations direct in Taurus on Saturday, May 30. This occurs while we are in the midst of the triple conjunction that offers us the opportunity to shape and recreate our world. Everyone agrees that things need to change both on the planet and in our personal lives; we are standing in a vortex where that change is not only possible (that's always true) but readily accessible.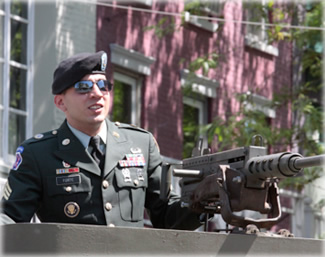 Sgt. Forte rides in the Memorial Day parade in Kingston, NY with his mounted machine gun. Photo by Eric Francis/Book of Blue.
An extremely rare, indeed, almost impossible alignment is now taking place in Aquarius, and involves Jupiter, Chiron and Neptune. This once-in-a-lifetime event reaches its first peak through late May and into June, and its energy will be available well into 2010 before it begins to trail off. Dive into the energy while the conjunction is in the flush of its youth. This conjunction is about accessing creative energy on multiple levels, drawing from a deep spiritual source in a way that is real -- not abstract or intellectual (like most of our spiritual stuff).
Because the main activity is in Aquarius (in a close aspect to the Galactic Core), we are experiencing a collective shift that is changing the rules of society as we experience them. We have a cosmic opening to explore who we are in the context of the people around us. The key to this process is visioning, visioning, visioning; then stating your intentions to the world out loud; and then taking action. Delay only as long as it takes to align with your long-term vision and your sincerity.
Yours & truly,

Planet Waves Radio will be webcast tonight, Tuesday, May 26 at 10 PM ET on Blog Talk Radio. We'll talk about the Gemini New Moon and it's connection to the Nuclear Axis chart. Check out the daily page for an introduction to that subject. I'll also be taking some questions about your personal astrology -- if you want to get on the air, please call in early!
Gemini
(May 20- June 21)
Often people try to be spiritual without addressing this elusive thing called the unconscious. But since it's unconscious, it's understandable how we might not be conscious of it. At the moment, you seem to be waking up to this level of awareness, which most would regard as deep, dark and too complicated to be much fun. Yet awareness of this dimension is precisely how we grow. It cannot be taken in especially big chunks, though at the moment if the unconscious is a country, you now have access to the equivalent of a major city. Taking this equation in parts, consider that we usually deem spiritual growth being more open to love; and this, most people struggle with. But who in a spiritual process would show reverence for the darker emotions? Usually the first impulse is to get rid of them. So what might you be encountering for the next few weeks? One is attachment. Beneath that breezy personality of yours, you can cling tightly, and that has a way of driving people out of your life. Another is a fear of change that seems to directly contradict the breezy, open-ended way you prefer to live. The two are related, and if you can get sight of that relationship and acknowledge it honestly, a dimension of love will open before you even know what happened.
Read your 2008 annual for Gemini. Order your Next World Stories 2009 annual for
Gemini and Gemini rising here.
Libra
(Sep. 22 - Oct. 23)
Venus has finally worked its way out of the retrograde that had, until lately, dominated the year's astrology, and you have learned one thing: not to live your life based on what you think that others think. This includes your lover or lovers, or any relationship interests; it involves your parents and it involves the way you present yourself to the world at large. Most people spend their lives either trying to impress others by being who they think others want them to be, or by arrogantly being whoever they feel like being without regard for anyone's feelings. There is a vast middle ground, which involves factors like empathy, rapport, respect and authentic individuality. I would guess that by now, you've figured out that unless we make space for all of us to be who we are, there is not much space for anything else. One of the things you appear to have done is to create space for yourself in the context of your relationships. I strongly suggest you keep doing this, that is, pushing open a wider and wider space for yourself to exist within the lives of the people around you. This should not be a problem, but be aware that with your creative powers maturing, the only people who are going to seem spacious are those who are committed to their growth and their own creative process.
Read your 2008 annual for Libra. Order your Next World Stories 2009 annual for
Libra and Libra rising here.
Aquarius
(Jan. 20- Feb. 19)
I would not be surprised if you felt your life has been running out of control, or at least if your mind has been. This year has melted from one kind of intensity to another to another, all designed to leave you where you are today: out on the edge, in totally unfamiliar personal territory, and moreover in a place without a map. I think you need this absence of familiarity as much as you need food. However, the map known as astrology reveals several things: one is that you are breaking through the shell of your personality, only to discover that not far beneath the surface is this too-often elusive thing known as soul. This awareness necessarily requires a kind of ego death, where the familiar version of yourself and all its references to the past start to melt like ice in the light of the Sun. The second thing is that while you will be occupying this edge for a while, you are retreating a bit now, and this ever-so-slight pulling back is on time. Last, it is not air or an abyss beyond the edge of what you know, but an ocean; a world of feeling and experience and indeed a whole new cosmos beneath the waves. It may be a while before you sail out on the high seas on your own; for now, some of that energy is coming to you in waves, to acclimate you to this new cosmos you will soon see is your life.
Read your 2008 annual for Aquarius. Order your Next World Stories 2009 annual for
Aquarius and Aquarius rising here.