Mercury Stations Direct in Taurus Extravaganza
. We're here with a special offer for first-time subscribers and returning subscribers -- a year of Planet Waves for a shade over the price for six months. That would be

$55

for more than 100 editions of Planet Waves Astrology News. At the end of the year you'll receive an offer to renew at the current rate -- and other special offers along the way (such as for the 2010 annual edition). This offer expires Monday night! Check here for full details and easy ordering.

Dear Friend and Leader:
A couple of weeks ago, I got a suggestion from my inner guide to stop interpreting the Aquarius conjunction. I follow this voice carefully in my astrology writing. It's given me plenty of information but never before suggested that I shut up. "You've been working on this for 14 years. Stop explaining the energy and focus on working with it," is the message I got, basically verbatim. Fourteen years? All my roads lead here; to this desk; all words to this very sentence.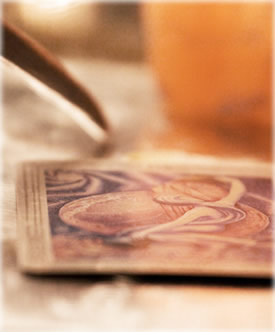 Aquarius. Photo by Eric Francis.
It was time for a break anyway, so I started canceling things (like editions of Planet Waves Radio), farming writing assignments out to my colleagues and doing other things (visiting friends, photographing new people and places, writing fiction, and so on). Finally I slept through the Gemini New Moon and realized that I had indeed disengaged myself. With the first peak of the Jupiter-Chiron-Neptune conjunction upon us, and with Mercury stationing direct on Saturday, I am here with a few additional notes.
Mercury will station direct in late Taurus, square the alignment in late Aquarius, so the two events are intimately related.
It will take Mercury about 11 days from now, slowly walking forward in Taurus, to align at precisely 90 degrees with the triple conjunction (this will be the third pass of this square, and the most precise). Mercury is the planet of mind, and vibrates closely with Aquarius all the time; Taurus is the sign of the body. The message is that we are trying to embody an idea. That is to say, it's time to get it out of our heads, out of the abstract realm, and into the physical, sensory dimension where we can work tangibly with the changes we are making.
I have described the Aquarius alignment as one of the most meaningful conjunctions of our lifetimes. I am speaking collectively and individually. This is a big statement, particularly since (at the moment) there seems to be nothing special going on in the world unless you're really impressed by Korea's nuclear test or GM fleeing to China; and yes we have a Supreme Court nominee (see article below) and that is pretty important; but nothing overt (such as on TV) that would lead someone to say, "Gee whiz, what a superb moment of human evolution. What a great time to be on the planet." Unless of course you're looking carefully, and unless your perception sees the particular wavelengths that would resolve something so subtle. Because this aspect involves Neptune, and is in a sextile to the Galactic Core in Sagittarius, I am pretty sure it's invisible to most people. Both Neptune and the Core have the property of disappearing into the background. But so do most big aspects -- unless something horrid happens (such as Sept. 11) or unless the planets turn up the dial on sex, drugs and rock 'n roll (the 1960s, 2012).
If we look with the long view, it's fairly easy to see what it all adds up to, but it's difficult to see the astrology in its moment, and that is one of the true challenges of paying attention to astrology at all. Also, one's personal transits can send us into crisis, and I'm hearing a fair bit of that now, but we need to understand the nature of the crisis. To me this is speaking clearly about getting to a lighter density level than the one we're conditioned to hang out on. This involves adjusting our relationship to matter/mater/mother.
Continue Reading | Subscribe to Planet Waves


In 1843, there was a conjunction of Jupiter and Neptune in Aquarius, close to our current conjunction, which predated and in a sense predicted the 1846 discovery of Neptune (see article below). (This is also to say that Neptune recently had the Neptune return of its own discovery position.) Then the next conjunctions were as follows: 1856 in Pisces (the first technologically 'modern' conflict, the Crimean War, ends); 1869 in Aries (Wyoming becomes the first place in the world to give women the right to vote); 1881 in Taurus, with Saturn right there (the Sioux end the American/Indian conflict with surrender, Kansas jump starts prohibition); 1894 in Gemini (a new form of communication, moving pictures, are invented); 1907 in Cancer (American financial disaster is stopped by financiers fronting the bill); 1919-1920 in Leo (Germany was not happy, and would be back); 1932 in Virgo (as the 'Great' Depression was taking hold); 1945 in Libra, conjunct Chiron (just as World War II ended, appropriately enough); 1958 in Scorpio (Beat Generation, predicting a bit of sex, drugs and rock 'n' roll to come); 1971 in Sagittarius (dawn of the modern New Age); 1984 in Capricorn (that form of spirituality known as Paranoid Fundamentalist Neoconservatism); 1997 in Capricorn (more of the same); and finally 2009 in Aquarius -- notably, the first in Aquarius since the discovery of Neptune in Aquarius.
-- Eric Francis / Melanie Andrews
Continue Reading | Subscribe to Planet Waves



Weekly Horoscope for Friday, May 29, 2009, #768 - BY PRIYA KALE
Today Priya Kale is standing in for Eric Francis on the weekly horoscope. Eric Francis returns to the weekly horoscope next week.
Gemini
(May 20- June 21)
You've been dealing with deep personal doubts, a feeling of groping in the dark and perhaps fear that you are going to be stuck in a situation longer than you like. But you are awakening now to a profound truth that may come as a solid hunch suggesting the ground beneath your feet is laden with more potential than you first realized. This is true. But you may need to resolve the importance of one partnership or financial situation that has its hold over you. There is a painful past you need to let go of but recognize that can only come when you confront it. It may take a while to all come together but something deep within your soul is coming to life -- be patient as you nurture this dream. If you can trust your own instincts regarding the worth of something, it is more than likely to open up a chest of treasures rather than Pandora's box, revealing to you the gold mine you are standing in.
Read your 2008 annual for Gemini. Order your Next World Stories 2009 annual for
Gemini and Gemini rising here.
Libra
(Sep. 22 - Oct. 23)
A deeply personal or business partnership has held your attention for a while. You've been right to think there is something you don't yet know. No one likes the feeling of being kept in the dark, but as the truth surfaces this week listen closely to what is being said. What you learn has the potential to change everything. A partner seems ready to go deeper and offer you the security you've been looking for, but on your part there is likely a darker past you need to let go of. You are rebuilding foundations and any rules based on past interactions need to be turned in favor of new ones. Emotionally and financially, the rewards for your patience, hope and clarity are about to start becoming a reality.
Read your 2008 annual for Libra. Order your Next World Stories 2009 annual for
Libra and Libra rising here.
Aquarius
(Jan. 20- Feb. 19)
You've seen yourself mirrored and distorted in the eyes of the people around you so much lately, that it has been absolutely essential to keep clear of projections and an awareness of who you are at all times. You could NEVER just be one of the crowd. But truth is the crowd does not really want to be one of the crowd either. Your ability to keep sight of your soul even when other people are being indecisive is what keeps you ahead of the game. If you've been concerned regarding an important matter surrounding your home, family or security, there is important news surfacing which is likely to prove to be reassuring and bring a flood of relief. It will though require you to get over the darker fears that control you and actually take that step towards allowing yourself to feel comfortable in your own skin.
Continue Reading | Subscribe to Planet Waves