Goddesses, Abundance & Curiosity: New From Planet Waves
Dear Planet Waves Reader:
The Planet Waves
Daily Astrology & Adventure
(our free daily website) has an abundance of new articles designed to feed your spiritual thirst and your curiosity about life.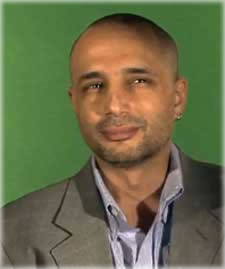 Eric Francis, shown from featured video on 2012 astrology -- see below.
All week long, we've been covering the rescue of the 33 miners in Chile. There are a number of spot-astrology articles written as the rescue was happening, and this week's subscriber edition of Planet Waves goes deep into the chart of the rescue as a world horoscope. The experience of these miners was like a microcosm of life on the surface of a planet where we are, in a sense, awaiting rescue. All readers may
browse through that coverage here.
We're also featuring the work of Sarah Taylor, a tarot specialist from the UK. Sarah is a gifted tarot reader and author, and this series has been popular and successful. These articles appear each Wednesday with one over the weekend.
Here is the latest edition on The High Priestess and The Empress
-- available to all readers.
We recently featured an article on all four of the
first-discovered asteroids
changing signs. Actually I totally missed this and the writer, Lisa Roberts, came through with an excellent article. This is for Goddess fans or those curious about the minor planets, and it covers Juno in Virgo, Pallas in Sagittarius, Ceres in Capricorn and Vesta in Scorpio. This is available to all readers.
If you love astrology, you don't want to miss the work of Len Wallick, published every Monday, Tuesday and Thursday. Len, originally a specialist in the I Ching, brings his divination talent to the planets on Planet Waves.
Here is his latest edition
, available to all readers.
If you're taking all the Scorpio planets to heart, and if you recognize the potential for sexual healing, here is an excerpt from my nonfiction novel,
Book of Blue.
This an intimate, explicit, detailed piece of writing, describing the process of inner journeying that is such a beautiful part of making contact with Goddess energy -- and with yourself. We often hear that "relationships are mirrors." This article, about relating to oneself, is called
Mirrorplay
.
Finally, this bit of video turned up in a Google search yesterday -- it's a
fun discussion of 2012 astrology
.
Stay tuned!
Yours & truly,