Feel Like You Might Be Missing Something?
It's not your car keys or that other sock. You missed your October forecast from Eric Francis! We've just begun a new season, with the equinox recently past and some intriguing new astrology brewing. A rare Venus retrograde in Scorpio has the energy pointing us inward, and as usual Eric's most thorough horoscope of the month has plenty of ideas where to focus that self-inquiry -- equally useful for your Sun and rising signs (and those of your friends, family or lover).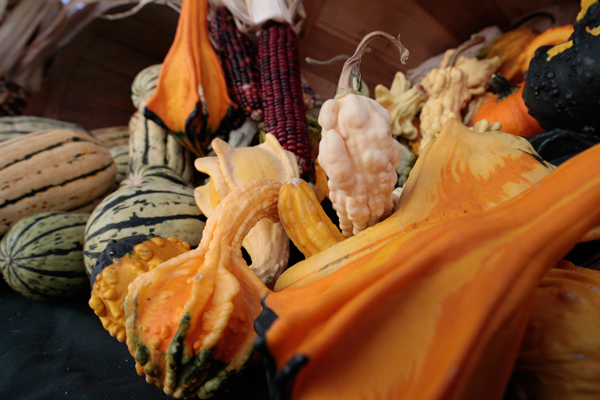 Gourds at the Kingston Farmer's Market, Oct. 2, 2010. Photo by Eric Francis.
Here is what our subscribers have said about it:
"October's horoscope for Aquarius is so penetratingly spot-on that I've done with it like I've normally done with PW horoscopes. To keep intention on it, I post it up on my bulletin board to look at and remember, and meditate on. It cuts right through to me."
- Fe Bongolan, California
"The Virgo (my rising) and Pisces (my Sun), and the Capricorn, (my Moon), are so exactly what I have been thinking, dealing with and working on that they are hair raising to read. Thank you for pointing the way for me in such clear and insightful horoscopes."
- Carrie Harrington, Arizona
"Can never thank you enough for your Cancer horoscopes dearest Eric. It's as if you've written them specially for ME! I always refer back to them over and over again. They help to keep me on track, and keep me in touch with what really matters when life and worries sweep me away from myself."
- Liz Glanville, Italy
The current Venus retrograde promises to be an interesting journey, full of unexpected discoveries. If you've subscribed before, you already know why one reader called Eric's horoscopes, "a wonderful toolbox to assist in delving deep into the inner recesses (Scorpio's realm) of my psyche."
Brand new to Planet Waves? Find out for yourself why our subscribers are so passionate about Eric's horoscopes -- the first month is free.
Click here to order
.