Dear Friend and Reader:
I promised my friends the Yes Men to send today's article from
Planet Waves Astrology News
about them to every email address I had. They've managed to get United Artists to distribute their new film,
The Yes Men Fix the World
, but there's not exactly an advertising budget. So, let's take it to the people ourselves. That link, covering last night's takeover of a Whole Foods Market in Manhattan (plus the astrology of the Yes Men, written about in Planet Waves for the first time ever), is included with this letter.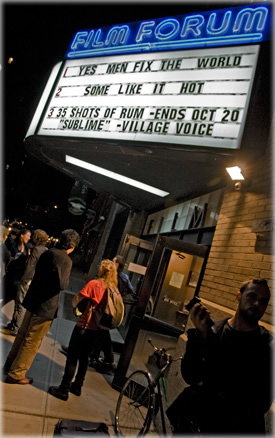 Outside the Film Forum in New York's Greenwich Village, where "The Yes Men Fix The World" premiered this week. Photo by Eric Francis / Planet Waves.
But when I was sending out today's amazing edition to our passionate, loyal subscribers, I was wondering: where are the rest of you? You like astrology, but you don't subscribe to the coolest astrology magazine on the Web? Well, some people need a little friendly persuasion.
Today, I'm going to make it gosh darned virtually inevitable that you will allow yourself the relief and pleasure of signing up for a subscription, or coming back into the fold. Maybe you're one of those people who's wanted to forever; or you sit in quiet anguish, reading the free materials, knowing your neighbors sponsor them. Or you missed our last 3,000 invitations to sign up. Or you haven't forgiven us for that typo you found six years ago. Or you think we still use a black background and Planet Waves is difficult to read on your 1986 Dell laptop, the one with wheels. Whatever it may be. Now, none of that matters.
Most of you are Americans, and Americans adore a discount. In fact, if you knock 10% off the price, you can sell most Americans something they don't want or don't even need. If you want to sell to Brits, include a free umbrella and if you want to sell to Europeans, tell them that there's been a new regulation passed requiring them to do whatever it is you want them to do.
I'm going one-up all of that -- for today only. Today means all day Friday, Oct. 9, 2009, and we will use California time to be fair to everyone.
If you purchase a three-month subscription to Planet Waves Astrology News, we will upgrade you to a one-year subscription
. You will get 52 weekly editions, 52 Tuesday bonus editions, and discounts on all of our other products and reports for a full year. This includes being eligible for the
substantial subscriber discount on Cosmic Confidential
, the 2010 annual edition of Planet Waves. All this can be yours for just $29.95. But it can only be yours today. Tomorrow, it will be $88 again -- and well worth the price.
Here's the link to subscribe
-- remember,
it says you're getting a three month subscription
, but we will automatically upgrade you to one year if the sale is processed in the next 15 hours or so. You can also use this option to purchase gifts, but just today.
Here's your link to How To Fix The World, Part Two
, starring The Yes Men. I'll tell them you said hello.
Yours & truly,