Mercury Stations Direct

Dear Fellow Traveler:
Since you're not a subscriber to
Planet Waves Astrology News
, I'm here to let you know what we've got in this week's edition. As you may know, Mercury stations direct on Sunday, Sept. 12. For those who are wondering why the world is so weird -- from Koran-burning ministers to fires breaking out in cities to your own level of stress -- those days surrounding the station of Mercury are dependably stressful. But there is relief in sight this weekend, and then after Mercury stations on Sunday, Pluto stations direct on Tuesday.
Note that at the request of our readers, we are now offering single-issue sales. If you would like to purchase this week's edition for $2.95,
please check this link
.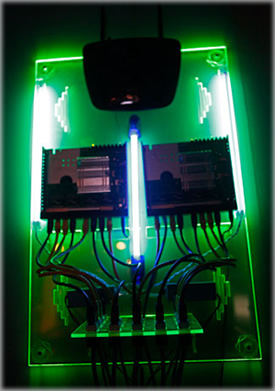 Laser-engraved, dual-honed redundant gigabit network patch board and modem-router at
Brainstorm Computers and Technology
in Kingston.
They will engrave your laptop too!
Photo by Eric Francis.
Of Pluto in Capricorn, I wrote in this week's edition: "Pluto is about the soul's journey. Often it's difficult, here on the dense material plane; at other times we can easily flow with synchronicity. Yet in this phase of history, when we're so obsessed by fear and when so many people live entirely dispassionate lives, and when so many are afraid to have new experiences, we need help: and Pluto in Capricorn is just that. It represents a new phase of evolution wherein we can crack the casing on those areas where we're entrenched or stuck, and break out of the many 'traditions' that low-grade Capricorn represents in our era of history -- like the one that tells us how cool it is to be totally hung up, smug or centered on personal 'necessities'. This is not a time for purity, for orthodoxy or for leaning on the past; it's a time to be flexible, adventurous and face the future, and that engine is coming right from Pluto in Cap."
In a recent
free podcast
(which come out each Wednesday), I offered some insight into these events as well as into the updated chart for the Sept. 11, 2001 incident. While I planned to write about the chart in this week's edition, I didn't, for personal reasons -- it was just too heavy. But I've included some articles out of the archives, which I'll share with you here.
They are:
Sept. 11, 1984
,
The Gingerbread House
and
Were It So
. I think that the most interesting current development in the chart is that the lunar nodes (and thus, eclipses) have returned to Cancer and Capricorn, where they were when the initial event happened, only they have reversed positions. This is a little like saying that the karma of Sept. 11, whatever it was, has done a 180, which is partly why this anniversary is getting so much attention.
We're also running a
Facebook recruitment campaign
, to build up membership to our fan page. If you would like to join our fan page,
use this link
. This isn't an endorsement for Facebook. I know many of you cannot stand the thing for good reasons, but others are obsessive, even passionate, users and it's to them that we're extending this invitation.
In case you haven't seen a Planet Waves horoscope in a while, here is a
link to the September edition
. For this weekend only, you can also browse some back issues from there to see what we've been up to lately.
And of course, don't miss our
daily blog at PlanetWaves.net
. During the week, we usually update four times a day. I'll be doing special edition audio this weekend from the Loving More National Conference in Saratoga, NY, where I'm the keynote speaker, giving a talk called "Community & Compersion." Check the blog Sunday for the recording of that discussion, and Saturday for shorter audio posts -- mostly interviews -- that will go up periodically.
Wishing you a sane and adventurous weekend -- for Planet Waves, this is