Hello and good morning.

It's early Friday morning -- a calm and quiet 5:30 am in my kitchen office in Kingston, NY, and I am up with my team getting ready to put out today's edition of Planet Waves Astrology News.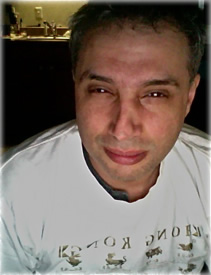 Eric, early in the 21st century.
Today's edition covers the issue of self-esteem, which I think is one of the most profound crises of our time in history. We can talk about the environment, the economy, politics, raising children or any other 'global' problem you like, but unless we feel good about ourselves, none of it matters. We have many responsibilities right now, in truth more than ever, but unless we feel up to the work and the pleasure of being human, it's not going to be a happy experience.
So much is possible -- but only if we feel like we can do it; if we can see the potential we carry. Today's edition is designed to help open up that potential. Like all Planet Waves articles, crafted with you in mind.
It's timed with Venus stationing direct in Pisces, and looks at the relationship between the 2nd and the 8th houses -- the houses of "self value" and "other value." I will be developing these themes as the Sun makes its way across Taurus for the next four weeks. This, in addition to our news coverage, Judith Gayle's analysis articles and my weekly and monthly horoscopes.
I recognize that we're in tight economic times, and in honor of that, I am here to propose that Planet Waves is a solid investment in yourself in these very days. Sure, it's good to have insightful information in easy times when nothing particularly confusing is happening and you feel amazing and have lots of extra cash and you're not confronted with the necessities of growth and relationship.
Planet Waves is designed for times of change, of progress, of enforced growth: it's designed to help us all be more aware that we are people living on the planet together, taking one journey. For the past 10 years it's helped keep my own growth and learning on track.
And I plan to be here at daybreak every Friday morning doing my best to keep on growing, and publishing and writing the future. It would be great to have you here with me.
Very truly yours,

PS, We have recently lowered the price of a one-year subscription. There are also recurring options available, all of them
at this link
. We can also take your order by phone -- to do that,
call Chelsea at (877) 453-8265
, or if you are calling from outside the United States,
call (206) 567-4455
.