Dear Friend and Reader:
Tonight, a much-acclaimed television special on Farrah Fawcett's battle with cancer will air on NBC. In what appears to be a kind of reality show, the program will consist of up-close footage of Fawcett's sickness, treatment and subsequent decline reportedly from anal cancer. The program in effect turns her from sex symbol to death symbol. Heart-rending previews of her praying and pleading for her life have been used to sell the program to visitors, and newscasts have been promising the most raw, up-front self-exposés ever of a famous person's struggle with illness.
The story -- we are told -- will bring awareness to the urgency surrounding cancer. Instead, it threatens to make death into a spectator sport and obscure the real issue: why exactly so many people (close to half of Western society, if you believe the statistics) will get cancer.
Clearly there are people who will find this docudrama empowering, vindicating or a kind of release. We have all gone through this with someone in our lives, or perhaps several people, and seeing a scenario reflected in the ethers of television can help us acknowledge that something is real. Yet there is another reality beneath the surface, one that is rarely allowed a single minute of television airtime.
With her Sun and many other planets in the 8th house, which addresses themes of sex, death, crisis and transformation, this role is almost as natural for her as experiencing the erotic adulation of millions of men and boys. Yet cancer is big business, even for the companies whose toxins are known to create it.
To demonstrate this fact, we need look no further than the network that is airing the special -- NBC. The network is a subsidiary of one of the most notorious purveyors of Cancer, Inc.: General Electric. Of the many ways this company has spread carcinogens in its employees and the public, few are more notorious than PCBs, or polychlorinated biphenyls. These chemicals were used heavily by the electrical industry between 1929 and 1979, and much of the equipment manufactured during that time is still in place, ticking like time bombs that can and do go off randomly -- just like we think of cancer itself.
I have also seen documents which state that General Electric knew that silicone surgical implants it manufactured were contaminated with PCBs, one of which was copied to a then-vice president by the name of Jack Welsh. How many patients were sickened right in the hospital by supposedly pure, sterile products containing one of the most toxic known chemicals?
Continue Reading | Subscribe to Planet Waves


By Judith Gayle
|
Political Waves
We live in a time of immense social and political distortion. The 'greed is good' culture of the 90s gave way to a lash-back from politicians making hay from Clinton's blow job and Christocrats filling collection plates from those who longed for the simpler, and more socially-repressed, days of yore. Begs the question: what's morality? A good number of Americans believe morality has to do with sexuality, drugs, laws and belief systems. Another large number is more interested in attitudes, intentions and bottom lines -- that would include me.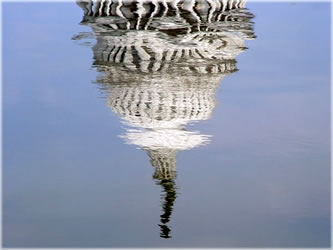 Distorted reality. Photo by Deirdre Tanton.
Take Miss California's breasts, for instance.
Carrie Prejean
is Barbie-beautiful and seems quite poised; she proved that when she confidently gave her opinion on gay marriage at the Miss USA Pageant, one that coincided with her religious convictions. Prejean is evidently an evangelical Christian; Satan tried to tempt her with the politics of that question but she kept the faith, or at least that's what she told Religious Righty, James Dobson. More controversy hit Miss Prejean when it became apparent that she'd shared her abundant, semi-clad charms with the camera of a professional photographer prior to the contest.
The Donald, he of the laughable comb-overs and glitzy real estate deals, owns the pageant franchise and made the decision that, despite surfaced photos that Carrie had sworn didn't exist, she could continue to hold her title. As a little
California newspaper
put it, "Once again, our weary and deeply conflicted nation turned to Donald Trump for moral guidance on Tuesday, and once again, the wise old sage reached deep into his soul and delivered this proclamation: She's blonde, she's hot, she stays." This prompted satirist Andy Borowitz to write a piece entitled,
Miss California Vows to Use Her Naked Breasts for Good
.
Continue Reading | Subscribe to Planet Waves




Coming Up in Daily Astrology and Adventure


Editor's Note: These briefs are written each week by a guy named Eric Francis of Little Rock, AK. I found him googling my own name, discovered he was a journalist, and he came on board as our news writer. I was hooked from the first line of his bio, "I am a newspaper man." Kid, you're hired. -- EFC

For almost 80 years, Venetia (nee Burney) Phair could claim a singular honor: She had named a planet that she didn't personally discover -- Pluto. Not a bad accomplishment for a girl of 11, but then many truths have come from the mouths of babes. Phair, who lived in Banstead, Surrey, England, died on April 30 at the age of 90, according to an obituary in
The New York Times
.
The year was 1930 and Pluto had just been discovered. Young Venetia suggested the name to her grandfather, who had been librarian at the Bodelian Library at Oxford University. He brought the suggestion to the attention of an Oxford astronomy professor, who passed it on to the Lowell Observatory in Flagstaff, Arizona, which had confirmed the planet's existence. Eventually, despite many other suggestions (including Minerva, Atlas, Zeus, and Persephone), Pluto won unanimous approval from the Lowell staff.
Burney had Pluto in early Cancer. She lived long enough to come close to experiencing her Pluto opposition, as Pluto is now in early Capricorn. And her natal Pluto was heavily aspected: it was square Mars (an aspect that repeats in the Pluto discovery chart), as well as square Chiron and Nessus.
Her chart also features Mercury conjunct Neptune -- an aspect that is associated with remarkable intuition. And Vesta conjunct the South Node says "reincarnated high priestess" like few things possible in a chart.
Phair's naming of the orbiting body (now classified as a dwarf planet) had long-reaching impact. It was Walt Disney's inspiration for naming a funny, happy dog owned by Mickey Mouse. The element plutonium was named in its honor. In 1987, Phair's maiden name was attached to an asteroid in her honor, which NASA's 2006 New Horizons mission to Pluto included a device that measures dust that was named after her.
A documentary,
Naming Pluto
, that featured an interview with Phair had been released in April.
Continue Reading | Subscribe to Planet Waves



Weekly Horoscope for Friday, May 15, 2009, #766 - BY PRIYA KALE
Today Priya Kale is standing in for Eric Francis on the weekly horoscope. For more daily astrology, horoscopes and information on consultations please visit www.cosmicdiaries.com
Taurus
(April 19- May 20)
Your ruling planet Venus has taken you through the depths of your soul in a way that you haven't dared venture in a while. Although you aren't completely out of the shadows yet, you've past a turning point and something in your heart is sure now. Hopefully you've recognized the depth of your own power and its potential to affect a greater world with its message of hope and awareness. This has never been about your ego, but simply about what you have to offer. Sometime towards the end of this week you seem to have an encounter with an an event that was predicted in the cards. Don't be afraid to communicate clearly and ask for what you want and more importantly for what you KNOW you are worth. As long as you keep awareness of your noblest aspirations and deepest values you can't go wrong.
Virgo
(Aug. 23- Sep. 22)
You make a crucial discovery this week which may bring you to an instinctive awareness of the value of something you'd failed to recognize before. If you can be wise and patient, a conversation you have now within a partnership is likely to reveal a greater depth of connection you share with someone and its message of healing. Be grateful if what you learn this week has the potential to take you to new professional heights as you begin to find your true place in the world. There is more to you than even you thought or give yourself credit for, and there may come a moment this week that feels like a date with destiny. But far from being a thing of ego -- this is your gift to the world that you give from your soul deeply and daily. And these are the rewards of your integrity, dedication and humility.
Capricorn
(Dec. 22- Jan. 20)
You've been seeking more love, warmth and security which may have made you nostalgic for a past when you were young and free to enjoy the simple pleasures of life. Your awareness and ability to be honest with yourself above all is what will bring you closer to what you want. Dare to be bold, transparent and speak from the heart when it comes to an important matter concerning your emotional or financial needs. A partner is willing to offer you more security if you can overcome your doubts and ask for it. You have a profound gift to offer this world and your dedication to a long-held ambition has not gone unnoticed. But above all, recognize where your deepest values lie and allow them to be the guiding force of your life when things threaten to get cloudy. It is only when you can be in awareness of both your gifts and wounds, that you can attract in your life that which your soul deeply seeks -- healing.
Continue Reading | Subscribe to Planet Waves