Kingston, NY, Thursday, Jan. 3, 2008
Capricorn Sun, Scorpio Moon
Dear Friend and Reader:
I'M HERE on J.R.R. Tolkien's 116th birthday with a brief progress report on Small World Stories. This is the annual edition of Planet Waves, which as previously stated is
separate from a regular subscription.
It's a Planet Waves tradition to come out with the annual in early January. Autumn is usually frenetic for most people and, try as we may, it's only possible to make so much progress during the holidays.
So I've chosen a natural feature in the landscape, the Capricorn New Moon, as our scheduled delivery time, actually one day later on
Weds., Jan. 9.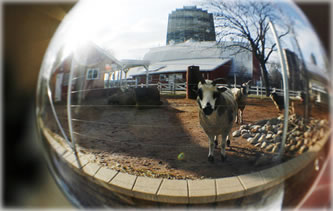 Photo by Dani Voirin. Small World Stories includes more than 50 stunning new photographs by Danielle.
Small World Stories includes extended horoscopes of about 3,500 words each for all 12 signs. I am currently on my second full draft of each, working my way backwards through the Zodiac from Aries to Taurus via Pisces (in the tradition of
Esoteric Astrology
). I am being assisted with this task by Paloma Todd in Barcelona, who is providing a crucial second viewpoint and making sure that my points are as clear as possible.
It also includes a detailed set of articles delineating the newly discovered planets (about 16 of them, if all goes well, with copious background notes if you want them). There are reader contributed stories of a small world, and a collection of original articles. The articles include my lead story, "Pluto in the Time of Eris." We also have one on binary planets beyond Pluto (Pluto is a binary as well), an article called "Eco Worlds" that looks at planetary discoveries in light of developments with the environment, a civil rights update and a refreshing view of sex on a small world.
Last but not least, we have our usual compendium of astrology resources.
In other words -- great fun. Thank you to everyone who has signed up. For those who have not, it is still available for
$24.95.
Use this link to sign up.
Yours & truly,