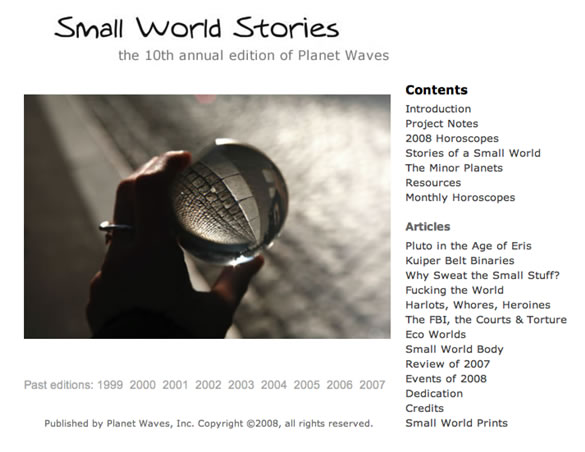 Capricorn Sun, Aquarius Moon
Kingston, NY, Friday, Jan. 9, 2008
Dear Small World Stories Subscriber:
Small World Stories, the 10th anniversary annual edition of Planet Waves, is ready. If you are one of the many people who purchased this product on faith, sight-unseen, THANK YOU for your trust and foresight. In case you haven't got around to it yet, there is still time to sign up at
$24.95
,
though even if the price increases, current Planet Waves subscribers (such as yourself) will be entitled to purchase the full package of all 12 signs together
. But don't miss out. This is our most comprehensive annual edition ever.
Your subscription grants you
one year of access
to the
Small World Stories
site, any extra mailings we do, the
Planet Wiki
minor planet project (created by us) in the background of the site, and a special new edition of the
Planet Waves Monthly
from February through December 2008, which will now be incorporated to Small World Stories.
The monthly horoscope will still be included as part of Planet Waves Astrology News
.
Later this week, a "Small Worlds" tab will replace the "Spiral" tab on the top right of most of our pages, for easy access throughout the year.
We look forward to joining you on our 10th anniversary adventure.
Yours & truly,

...and the Planet Waves team around the world