Dear Friend and New Subscriber:
Thanks for getting on board with Planet Waves. This letter is intended to acquaint you with the service you've subscribed to. If you ever need customer service, email
info@planetwaves.net
or call Chelsea at (877) 453-8265 during Eastern business hours. Please save this email -- it contains valuable information that you will cherish for many months to come.
About The Service You've Subscribed To

Every Friday you'll receive our weekly edition of
Planet Waves Astrology News
, with several articles by Eric and others, and your weekly horoscope. The articles survey astrology, inner life and outer life. Reader suggestions sometimes lead to full features in the Friday edition -- so please send yours.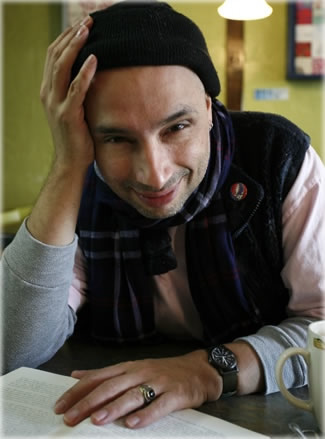 Eric Francis.
We've recently redone the
Member's Area
. This is a password protected web area that contains all the stuff sent to the Astrology news list. Your login identity is
reader
and your password is
stars
.
The Friday edition may be posted there as early as Thursday night (though it may be revised by Friday morning). The latest version is always kept in the Member's Area.
Use this link to get there
.
Every Tuesday you'll receive a mailing reminding you that we've posted the bonus horoscope -- one of several monthly editions that we publish. This mailing will send you to our Member's Area. (In days past, we emailed the whole Tuesday edition to your inbox. We are now mailing a reminder that will link you back to the same materials posted in the Member's Area.)
You also have access to a full year of back issues -- all of 2008, plus the current issues from 2009. Access to the full-edition five year archives between 2003 and 2007 is available by
separate subscription
.
Here are some other features that we offer:
--
Horoscope Archive and Oracle
. This database, available only to subscribers, includes more than 10,000 Planet Waves horoscopes dating back to 1999. You can search by topic -- or use the Oracle function, ask a question and draw one at random. To access this area, use your regular
Astrology News
log and pass, as given above.
--
Daily Photo Page
edited by Danielle Voirin. This is a daily photo from somewhere in the world, plus more than four years of photo archives.
--
Lunations
by Kirsti Melto is a technical astrology web log that looks at New Moons and Full Moons, focusing on the minor planets.
--
Political Waves
by Judith Gayle. Every day, Jude scans the news and posts the most relevant articles, adding commentary with her unique political spin based on
A Course in Miracles
.
--
PlanetWaves.info
is an automated news feed that searches the Internet for articles of interest especially for Planet Waves readers. It uses keywords to pick up articles on astrology, astronomy, sexuality, spiritual issues, the environment and other subjects that we guess you might like to read about.
--
Psychsound
by Steve Bergstein. This is our little known civil rights web blog. An astrology website with a civil rights column? Yes, this is Planet Waves. Steve is a civil rights attorney who practices in the federal courts. He knows what he's talking about. If you are interested in the state of the Constitution, check out this feature, updated one to three times weekly.
About Consultations with Eric

As a subscriber to
Astrology News
, you can sign up for a consultation with Eric. The waiting list is supposedly two years. But due to oddities in many people's schedules, times open up randomly and it's usually possible to get in a lot sooner. If you're in the New York area you can have a session in person. Otherwise sessions are conducted by phone, on Monday and Friday afternoons. For more information,
visit this link
and contact Chelsea to get on the list. You can do that by email or by calling (877) 453-8265 during Eastern business hours.
Thanks again for your subscription; your contribution is integral to Planet Waves' growth, and if there's any way we can help you navigate our services, don't hesitate to ask.