Woodstock, Wednesday, Nov. 18, 2009





Dear Friend and Reader:

Yesterday, I sent out our first promotion for Cosmic Confidential, with the ceremonial requisite error. Mistakes are opportunities, so I'm taking this one to tell you a little about the annual edition, why it's such an unusual project, and why this year's edition is special. I've never approached the annual with a greater sense of responsibility, stemming from both the incredible transits we're experiencing now and about to experience in the spring, as well as the struggles that so many people are going through at the moment.

While many are feeling unusually challenged right now, I'm aware that there's a significant constituency of readers that is waking up and moving directly into their creative consciousness. Quite possibly for you, all this work you've been doing on yourself is finally showing results, and now it's time to engage the truth that action is the fruit of knowledge. Or, you may be telling yourself every day that it's time to wake up and get with it. The astrology of 2010 provides us with a blazing moment to get on course, no matter how lost we may have felt in recent years.

Cosmic Confidential: A Future Investigation is our 12th annual edition, as we begin the 12th year of Planet Waves. (One of our first publications was an annual.) The annual has a new title and theme every year and is designed to provide a comprehensive overview of your astrology for the next four or five seasons. This year's builds on Small World Stories (2008) and Next World Stories (2009). [Note, all pre-order customers of Cosmic Confidential will be provided with access to the prior two annuals.]

I am asked constantly how I can write such meaningful astrology without having the natal charts of my readers. The common mythology is that Sun sign astrology is vague and inaccurate, and that we need the natal data to do anything meaningful. True, the natal data helps a lot; but I started on runes and then tarot cards. I could tell you that my annual edition maxes out what you can do with just the Sun sign or rising sign, but really, I am able to do far more than most people think is possible. Like a lot of things, you get out of astrology what you put into astrology.

Part of why is that in each edition, I pour in all of what I've learned from my clients the past year -- that is, I work with the human factor. Working as a consultant, I constantly check the effects of past transits and have made a 15 year study of how transits work. In this spirit, for the past couple of months I've been surveying our readership on the main page of Planet Waves and asking for their feedback about what has happened in the recent past. I am doing this to test my old theories, learn some new ideas and introduce fresh language and approaches. In other words -- to reality check.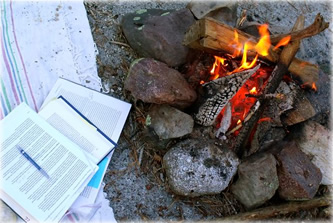 Cosmic Confidential workspace last weekend at the Grandmother Land, researching the Leo entry with the Moon in Leo. Research materials include Time and the Technosphere by Jose Arguelles, Esoteric Astrology by Alice A. Bailey, and printouts of Leo Small World and Next World annual editions. Photo by Eric Francis.

Most of you know that I came to astrology from investigative reporting, and the concept of Cosmic Confidential is what you might think of as investigative astrology. For each of the signs, I am developing a resources file that includes a thorough review of the past two annual editions, the comments, key charts (particularly the Sun's ingress into your sign), and two new methods using minor planets. Then I am reviewing the reader comments for your sign, and re-reading what I consider the best astrology book, Esoteric Astrology by Alice A. Bailey.

Each autumn, I endeavor to re-learn astrology as if from scratch. I introduce new planets to my work, apply different techniques, and do what I can to look at the transits with a beginner's mind. Then the synthesis and writing process takes about eight to 12 hours per sign. Note, I strongly suggest that you have access to both your Sun and rising signs, and those of anyone important who may be in your life.

In this year's edition, I am bringing back an additional feature, worth the ticket price of the whole project -- key life transits, which look at your astrology not by sign but also by age. In other words, if you're experiencing your Saturn return, your Pluto square, your Chiron return or other important, rare transits -- there is a section devoted just to this. While your natal chart (in the right hands) will give you even more information, Cosmic Confidential will satisfy your craving to understand what your astrology means for you, and give you a solid start if you are engaging in self-study, or have a session with me or someone else.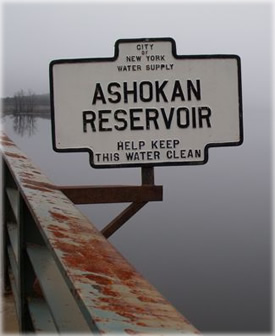 Taking a break from researching Libra Confidential on Sunday, I visited the Ashokan Reservoir -- the heart of the New York City water supply, located in Ulster County. Long forgotten environmental issues, such as the Earth's fresh water supply, will come to the forefront in 2010. Photo by Eric Francis.

The feeling I live with every day and with every article I write is that it's not possible to write this astrology too carefully. I make no claim to mastery, only to sincerely bringing the best of my talents to the equation of your life; to shining a little light into dark times -- the light of compassion and understanding; the potential for that vital "other way of looking at the world." This is a sacred trust; I am fully aware of that fact, and it's an honor to have this opportunity to relate so intimately with how you view your own existence.

Because the annual edition has become so popular -- Cosmic Confidential was a bestseller out of the gate -- we are able to give you this information for $19.95 per sign. The more signs you purchase, the better of a discount you get. However,

the best discounts go to those readers who support our innovative work through the year

.

Which brings me to the point I missed yesterday: You can still get Cosmic Confidential, all 12 signs and the key life transits, for $25 if you sign up for Planet Waves Astrology News. We will run this combined offer for one week, which gets you six months of Astrology News and the all 12 signs of Cosmic Confidential at a handsome discount on both products. Then we will resume offering Cosmic Confidential at the regular price of $19.95 per sign. If you already signed up Tuesday or Wednesday and want to take advantage of this, please ask Chelsea for special upgrade product code.

For many years, it has felt like a tightrope walk running a subscriber-supported service. You know how reluctant you are to pay for content, and rightly so. Most of it is not worth it. In the United States, nothing is ever cheap enough -- and that favors manufacturing in China, not individual talent devoted to your life.

Lately it feels like this magnificent adventure, not only a truly pioneering adventure in the history of the Internet but also an opportunity to passionately explore the mystery of where astrology meets human awakening.

It's great to be with you, and I love that you're here.

Yours & truly,



PS, I am writing this at Taco Juan's in Woodstock, and a few moments ago I picked up the 50th anniversary of a Gary Snyder book, Riprap and Cold Mountain Poems. I opened it up looking for some guidance about the annual edition, and here is where I opened to:
the morning star broke from the clouds,
and then the breeze from ashore:
mud leaf decay and soft life of plant jungle:
I went back to the cot and lay breathing it.
after weeks of sea air machine.
the ship found its course and climbed back to full speed
and went on.