Monday, Jan. 12, 2009

Dear Friend and Reader:

This is to let you know that Next World Stories, the 11th annual edition of Planet Waves, is ready. What a great feeling sending out the announcement last night after being increasingly drawn into the project since August and barely leaving my kitchen for a month. The first edition consists of the horoscopes (at about 3,700 words each) and several articles supporting the horoscopes. I can tell you that I've never worked so diligently on astrology writing as these 12 pieces; it was a trip to the underworld and back, to some new Aquarian heights and back, and some dancing with Eris and a few snorting centaurs. The result are actual astrology readings for each sign for 2009 and somewhat beyond.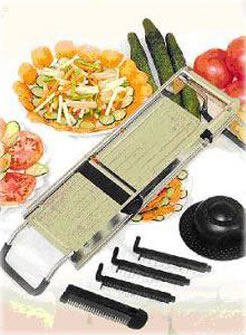 Planet Waves vegetable slicer set not included with Next World Stories.

There are also year-ahead forecast articles by some great writers, and a numerology article covering the basics for 2009 and linking you to further adventures. The two timelines are magnificent: one covering all of Pluto in Sagittarius, and another looking at Pluto in Capricorn starting 250 years ago, the last time Pluto was here. We have a minor planet section that will be updated with one asteroid or newly discovered planet each week. There is our chart resources area with a short book on Eris, a tarot spread generator, and about 60 charts to explore.

Then there is the 4th side of the triangle -- our Sci-Fi area, called The Next World's Stories. Even if you sign up for just one of the 12 signs, you get all that stuff above. It does not include a vegetable slicer or a light for inside your closet.

I feel confident saying Next World Stories is worth more than we're asking; and if you don't like what you get, if you don't feel it was worth every cent, call and we'll refund you on the spot. There is still an option to have all 12 signs and the extras for $25 -- just extend your Planet Waves Astrology News subscription by three months. This will work for new subscribers, and is indeed an incentive to subscribe. Here is that option.

Or you can sign up individually by sign.

This is a membership area that will be updated and active all year. Mainly, it's the kind of astrology that we would like to see more of, so we're doing it ourselves. Many of us have worked for months on this project -- and we did it for you. Thank you for helping build the dream of Planet Waves into a reality. Thank you for participating.

Peace & passion,